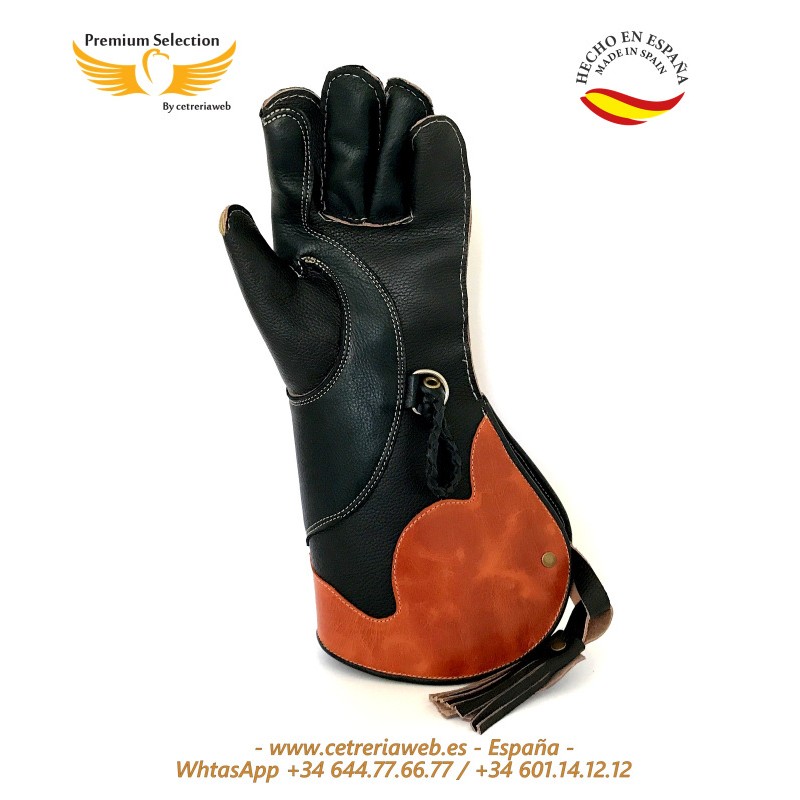  
1st quality skins used: NAPPA and NOBUK.

Napa
Nappa leather is a special type of fine smooth leather. It is especially gentle and comes from all types of animals and for all uses. We use this type of leather for its properties, such as its softness and durability.

Nobuk
This type of skin is special for falconry thanks to its rough texture, which favors the grip of the birds in addition to having a soft and comfortable touch.

Glove 100% guaranteed with perfect finishes and a very pleasant touch in the hand.

We manufacture our gloves entirely in Spain, 100% handmade production and with 100% natural materials.

                    - www.cetreriaweb.es - Spain -
       WhatsApp +34 644.77.66.77 / +34 601.14.12.12
Data sheet
Compositions

Piel de 1ª calidad.

Styles

Bajo vuelo.

Properties

Largo 35 cm, 2 capas
Glove 35 cm, 2 layers
Glove made of brown and black leather 35 cm, 2 layers.

Made with top quality skins and stitched with thick yarn.

Suitable glove for the following birds:
Female of harris, female of goshawk, female of goshawk philandes, female of sacre, female gyrfalcon, female of red tail, male of ferrugino and similar birds.

Glove 100% guaranteed with perfect finishes and a very pleasant touch in the hand.

We manufacture our gloves entirely in Spain, 100% handmade production and with 100% natural materials.