Vitamins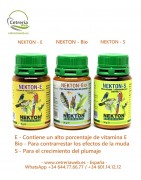 NEKTON-S is a food supplement for animals formulated to provide the adequate daily amount of vitamins, minerals and amino acids avoiding their possible deficiencies. Being a powder soluble in cold water.

NEKTON-E is a nutritional supplement composed of vitamin E.

NEKTON BIO is a special preparation that stimulates the growth of feathers.
Vitamins