Handmade hoods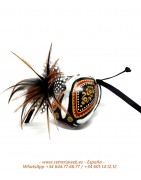 In Cetrería web we think of you and your bird, so all the caps we deliver are treated and waterproofed naturally (no chemicals). In this way, in addition to guaranteeing the safety of the bird, we will avoid deterioration when exposed to humidity, water or any other liquid. These hoods are made by master craftsmen of national and international level with calf skin. A skin known for its soft and flexible texture, almost velvety sheer and its high durability even in extreme conditions. As if that were not enough, in Cetrería web we use premium leather imported from the USA.
All our hoods are guaranteed with a perfect fit for your bird.
For any question or doubt do not hesitate to contact us.
Handmade hoods
Showing 1-21 of 176 item(s)