Jesses coordino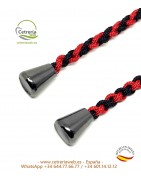 In this category you will find all kinds of skin jesses, coordino, waxed thread etc ...
All skin jesses are made with top quality skins for the safety of the bird.
The coordinating jesses are made with climbing yarn which is the safest thread with the highest quality on the market and finished with a metallic cap and two-component glue.
You will find many colors available and measurements.
Jesses coordino
Showing 1-25 of 26 item(s)