Vests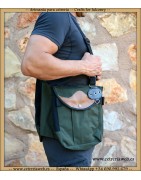 Buy the vests for falconers of better quality here in Web Falconry. Sanity or leather vests, backpacks and kits. All vests are for hawks and eagles and are made with cordura nylon fabric. Made with lightweight fabric but very resistant to shock, with adjustable straps and multiple pockets to store everything you need when you are practicing falconry.
Like all other falconry products, our vests undergo an exhaustive quality control before being sent.
You will find several different models and colors to choose from.
Vests
Showing 1-21 of 30 item(s)