Dutch hood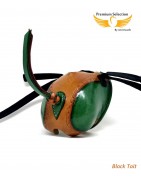 This is the classic model for excellence and tradition, its degree of comfort and adaptability that characterizes it has become a very used piece. It is made of three pieces of leather with the best materials on the market and finely stitched in cross stitch. The Dutch hood has two fabric belts (Goro-tex), very resistant to deterioration, keys that are made in two types: traditional V or English and in bellows Arabica folds.
This cap is completely handmade, it is made from start to finish, they are never made in series, this makes it a piece that retains a special touch of finish. It is made to the client's taste in colors: earth, neutral or bright colors. This type of technique is based entirely on the Rollins style.
If you are a demanding falconer who likes good quality and details, this is undoubtedly your model.
Dutch hood